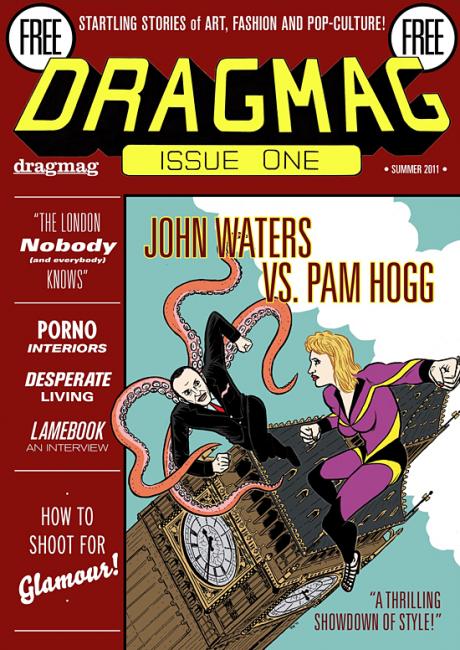 06-07-2011
New Dragmag!
Dragmag is a sweet surprise in mag country, new issue A3 size and completely free. I posted about them before but they definitely deserve the extra love.
Founder Oskar Oprey did an excellent job in creating this magazine. In his own words: "dragmag is a new bi-annual art and fashion magazine, flitting from trash to high-art, gutter to en-suite: no room for mediocrity."
He tells me about the interview with John Waters:
"John Waters was great - this was like nearly six months ago, as he was the first new piece i did. I had to beg his agent to give me just half an hour with him, in which time we also managed to shoot some great portraits while he was talking. I think he was a bit tired at first, as he'd been doing press all day. But when he realised we weren't just yet another set of dull journalists he perked up and we had a real laugh. I think we got an exclusive, as I asked him at what age he lost his virginity."
"The cover illustration is by a San Francisco cartoonist called Justin Hall, who I've never met and worked with through email. The font was adapted by an artist duo we work with called 'The creative world of....", from an old comic called 'Strange Adventures'. Hall's illustration spoofs a famous Spiderman vs Superman comic."

Click here for more best of the rest covers on Coverjunkie
Click here for more Dragmag covers on Coverjunkie