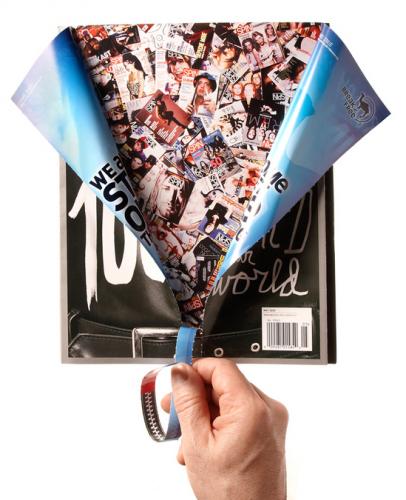 28-04-2010
Leather jacket cover Spin (3)
Wow, I like this a lot. A very well designed SPIN magazine 25th anniversary issue
The 100 moments that rocked our world.
Read here about the idea's of the creative director of Spin, taken from the great SPD-website:
SPIN Creative Director Devin Pedzwater shares some of the thinking that went into the magazine's new anniversary issue:
There has been a lot of excitement in the SPIN office in anticipation of our 25th anniversary. With the May issue, we carefully curated a list of 100 impactful moments that reflected the past 25 years and SPIN's role as an observer of--and at times, participant in--that cultural history. The package presented us with a unique cover design challenge.
The May cover had to be dramatic and memorable, so we explored different gatefold configurations, including the zip-strip closure. One of my favorite album covers, the Rolling Stones' "Sticky Fingers" immediately came to mind (see below).
We swapped the denim crotch for a leather jacket and commissioned rock star lettering artist James Victore to paint the cover lines directly on to the jacket. He took it one further by painting every inch of the jacket with words, icons and phrases from the issue, making it a one-of-a-kind piece.
Beneath the zipper, we wanted to show the breadth of the magazine's coverage over the years by creating a collage of some of SPIN's best covers. Sure, the zipper is a gimmick, but the leather jacket is an unmistakable symbol for us and we knew it would click immediately with our audience. Go check it out on the newsstand, just make sure you buy it before you unzip it!! --
Devin Pedzwater, Creative Director, SPIN
(magazine cover design)

Click here for more ace covers 2010 covers on Coverjunkie
Click here for more Spin covers on Coverjunkie