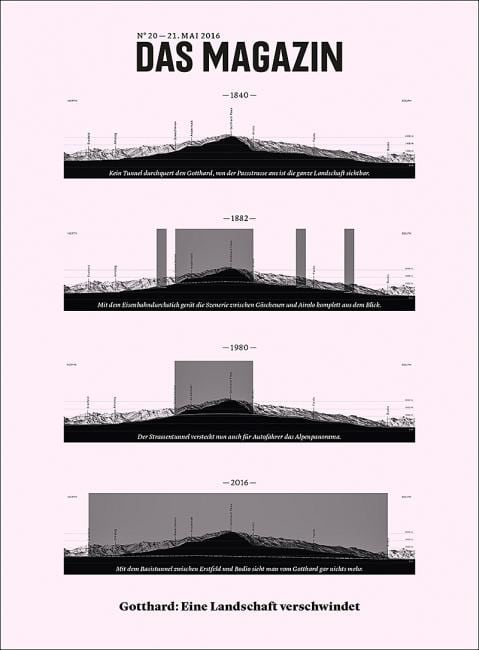 26-05-2016
Das Magazin (Switzerland)
New cover Das Magazin the weekly supplement of Zurich's "Tagesanzeiger":
This issue's graphic cover is dedicated to the Gotthard Base Tunnel.
It's a new railway tunnel through the Gotthard mountain (Swiss Alps).
After 20 years of construction it will be opened soon on June 1st as largest and deepest traffic tunnel worldwide.
The Cover shows different phases this important transit route of the Alps gone through since 1840.
The images are from the book: Der Gotthard / Il Gottardo. Landscape – Myths – Technology, by M. Burkhalter und Ch. Sumi. Published at Scheidegger & Spiess, 2016
Credit: Chair of Landscape Architecture, Professor Christophe Girot, ETH Zürich, and Ilmar Hurkxkens
Critic coverline: "Gotthard – A disappearing landscape"
Photo editor Andreas Wellnitz
Art director Michael Bader

Click here for more typographic covers covers on Coverjunkie
Click here for more Das Magazin (Switzerland) covers on Coverjunkie