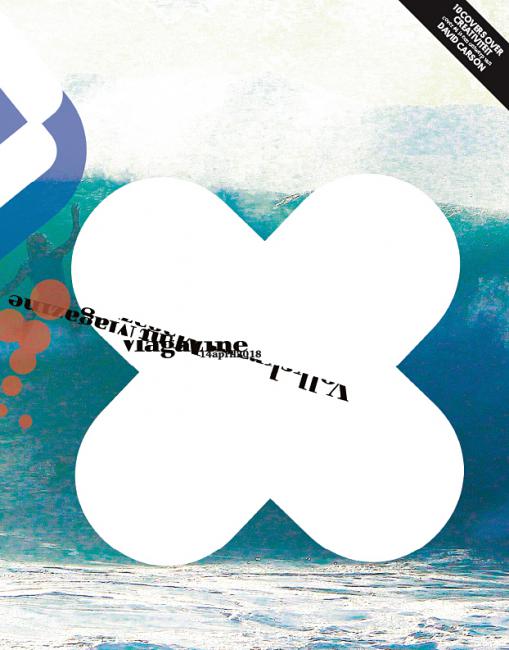 13-04-2018
Volkskrant Magazine (Netherlands)
Something exciting coming this weekend (understatement):
Volkskrant Magazine brings 10 covers from legends and aces out of the magazineworld.

Here David Carson design;
"creativity is hard to explain. where it comes from or where it goes.
if you try to have it, you don't. it comes from a unique place inside
all of us. its where the best work, and most fun, comes from. trusting
who you are as person, listening to ones intuition. i did alot of
versions for this, and at some point, this one felt right, and that i
was stretching a bit.
surfing is a big part of my life, the background image is of me surfing recently near my house in the carribbean.
sometimes i think i paint with type and image. creativity comes
from allowing ones own unique life experience to guide and direct you,
seamlessly. I've never done a cover that looks like this. to me it
speaks of, or hints at, creativity, and of a personal journey.
.....the unknown, the future, and a bit of the past, are all
represented here..."
10 designs made by @richardturley @davidcarson #wimcrouwel #georgelois @mirkoborsche @kesselskramer @rodrigosansan @anthonyburrill @mr_boonstra @paulfaassen @anna_kiosse_ink & @coverjunkie
A cooperation with ADCN Amsterdam
Editor in chief: Corinne van Duin
Art Director: Jaap Biemans
Photo editor: Heike Gulker

Click here for more split-run covers covers on Coverjunkie
Click here for more David Carson covers on Coverjunkie
Click here for more Volkskrant Magazine covers on Coverjunkie