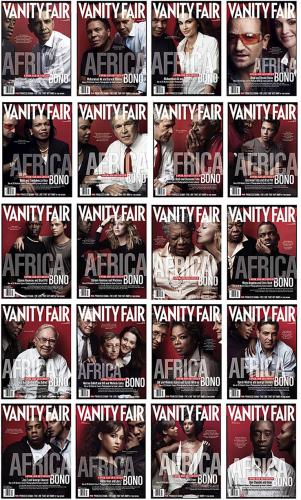 25-07-2007
Best split-run ever!
Most fabulous split-run cover series ever! Again beautiful cover design Vanity Fair
'The 21 people who put their famous faces to work for this issue say it all. Annie Leibovitz paired them up on 20 different covers—shout-outs for the challenge, the promise, and the future of Africa.'
'It's a visual chain letter,' says Leibovitz.
People on this visual chain letter are Bono, Brad Pitt, Oprah Winfrey, George Clooney, Jay-Z, Djimon Hounsou, Chris Rock, Alicia Keys, Warren Buffett, Desmond Tutu, Muhammad Ali, Bill and Melinda Gates, Iman, Don Cheadle, Barack Obama, Madonna, Maya Angelou, Queen Rania of Jordan, President George W. Bush and Secretary of State Condoleezza Rice.

Click here for more ace covers 2007 and before covers on Coverjunkie
Click here for more Vanity Fair covers on Coverjunkie