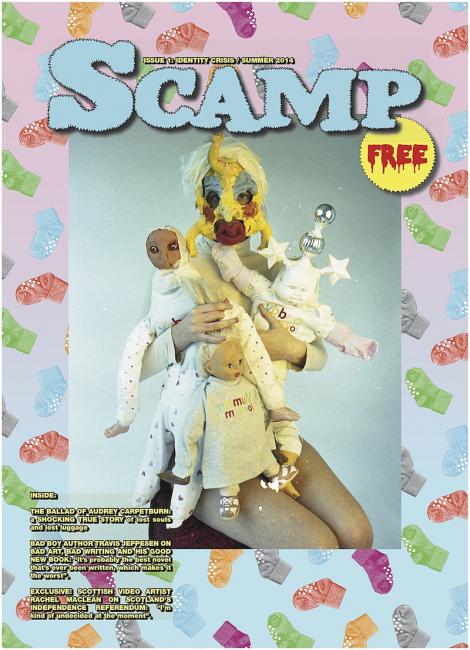 02-09-2014
Scamp (UK)
New cover Scamp magazine
Founder Oskar Oprey explains:
"We're billing it as 'an adventure magazine for the art and fashion crowd', and it's available for free both in print and online at scampmag.com. The
first issue centres around an old suitcase I bought at a lost property auction in South London; basically all unclaimed baggage from British Airways ends up in these auctions, where you can bid for them without actually knowing what's inside. I paid £63.00 for a large pink case that had caught my eye; as expected, it contained a big pile of dirty washing.
Scamp's fashion director John William then used this dirty washing as raw, musty source material to conjure up our quasi-fictional cover star 'Audrey
Carpetburn'. He gave her a name, a yellow plasticine face and a very tragic life story, all of which is explored inside the issue.
Our cover showcases Audrey with three of her imaginary children - all the clothing was found inside the case, which contained a tonne of baby
outfits; our art director Pedro Moreira created the beautiful jelly-bean wallpaper using one of the baby socks. The layout is a spoof on The Gentlewoman's iconic cover format, whilst the garish and childish colour scheme is heavily influenced by Disney Princess Magazine, except our Princess looks more like the grandmother from The Texas Chainsaw Massacre."
Founder Oskar Oprey
Art director Pedro Moreira
Fashion director John William

Click here for more premier issue covers covers on Coverjunkie
Click here for more Scamp covers on Coverjunkie