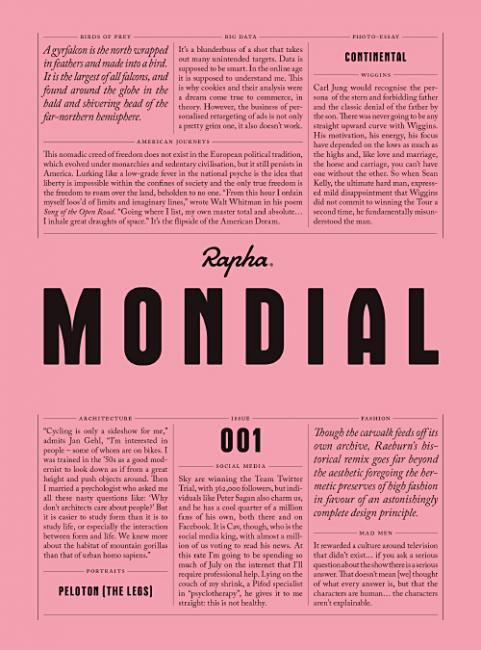 12-07-2015
Mondial
New magazine in town!
Cover Mondial, a new magazine from Rapha.
"Anyone addicted to road cycling knows the sport is about much more than fitness and gear. For road riders, the sport lies at the heart of their identity and is the lens through which they view the world. The past decade has seen an explosion in cycling media, both online and in print. Rapha believes it is time for the sport to show renewed ambition. Mondial expands the idea of what road cycling is and what the sport can be. Featuring incisive longform writing and stunning photography, in Mondial you will find familiar cycling topics given a fresh new treatment, while a cycling viewpoint is brought to wider cultural subjects, thus broadening the sport's reference points."
Editor: Mark MacKenzie
Art Director: Jack Saunders
Design Directors: Alex Hunting and Ben Brannan
Type Design: Colophon Foundry

Click here for more premier issue covers covers on Coverjunkie
Click here for more Mondial covers on Coverjunkie