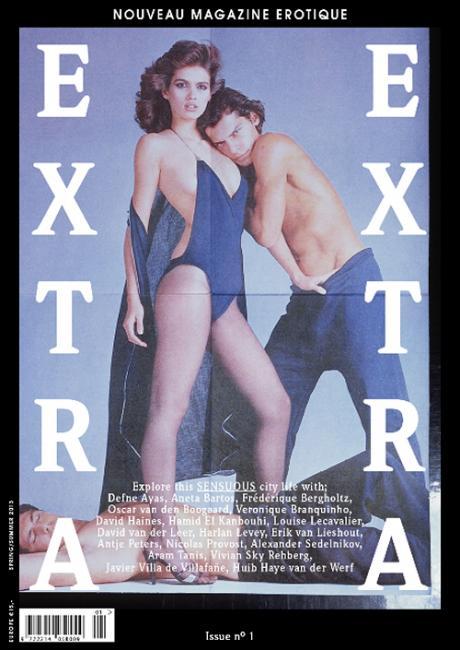 14-05-2013
Extra Extra (Netherlands)
First issue of a new mag that looks pretty ace AND carries a pretty ace masthead:
Extra Extra: "a magazine for erotic encounters, drawn against a vibrant urban décor. Sensual modern life, curiosity and exaltation come together."
Nathalie Hartjes tells me:
"On the cover of Extra Extra we return to the exotic year of 1979 where supermodel Gia Marie Carangi poses for a Gianni Versace advertisement by Richard Avedon. Antje Peters rephotographed the ad from her collection for Extra Extra."
Editor in Chief :
Samira Ben Laloua
Design:
Benlaloua / Didier Pascal
Editors:
Daniel Bouw, Nathalie Hartjes, David van der Leer, Taco de Neef, Nathalie Zonnenberg
Contributors:
Defne Ayas, Aneta Bartos, Frédérique Bergholtz, Oscar van den Boogaard, Veronique Branquinho, Hamid El Kanbouhi, David Haines, Louise Lecavalier, David van der Leer, Harlan Levey, Erik van Lieshout, Antje Peters, Nicolas Provost, Vivian Sky Rehberg, Alexander Sedelnikov,
Aram Tanis, Javier Villa de Villafañe, Huib Haye van der Werf

Click here for more premier issue covers covers on Coverjunkie
Click here for more Extra Extra covers on Coverjunkie