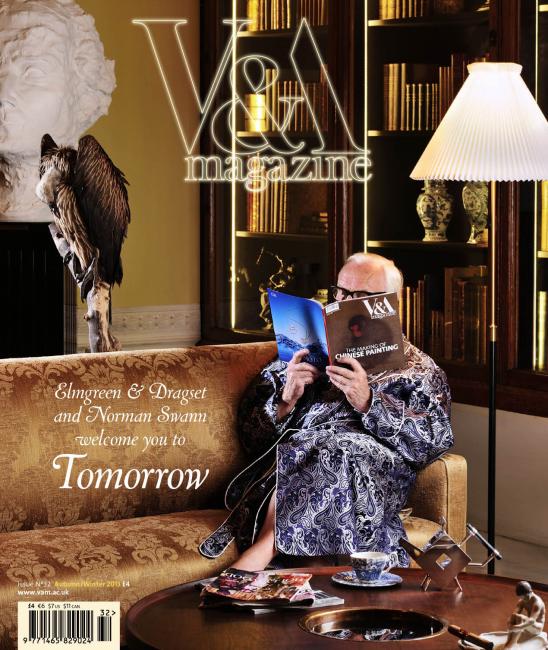 17-10-2013
V&A (UK)
"Thomas Phongsathorn, editor of V&A Magazine, explains"
"Two new covers, two very different exhibition subjects into one cover: 'Masterpieces of Chinese Painting 700 - 1900' and 'Tomorrow' by the contemporary artists Elmgreen & Dragset.
The main cover is the one of the rather flamboyant looking man, while the monkey image is a limited edition cover.
The idea behind the main cover is slightly twisty: Elmgreen & Dragset have created an installation called 'Tomorrow' here in the museum, and that installation takes the form of a grand apartment interior belonging to a fictional character, created by the artists, called Norman Swann. Norman is a retired architect in his mid 70s. We asked the artists to extend the narrative around Norman so that he is also a V&A member and therefore a V&A Magazine reader. This allowed us to photograph someone posing as Norman in the installation, and in that photograph he is reading the latest issue of the magazine, the lead subject of which is the history of Chinese painting.
We worked with Elmgreen & Dragset and the photographer Thierry Bal to shoot the main one. The Chinese Painting issue that you see in the photograph is a prop that I mocked up by hand. We have since modified that cover slightly for its limited run.
If you look closely at the coffee table in the shot, you will spot our Autumn/Winter 2012 'Hollwood Issue', which has been accidentally dropped in the bath by Norman."
New cover design from V&A magazine from Victoria and Albert Museum in London.

Click here for more best of the rest covers on Coverjunkie
Click here for more V&A covers on Coverjunkie