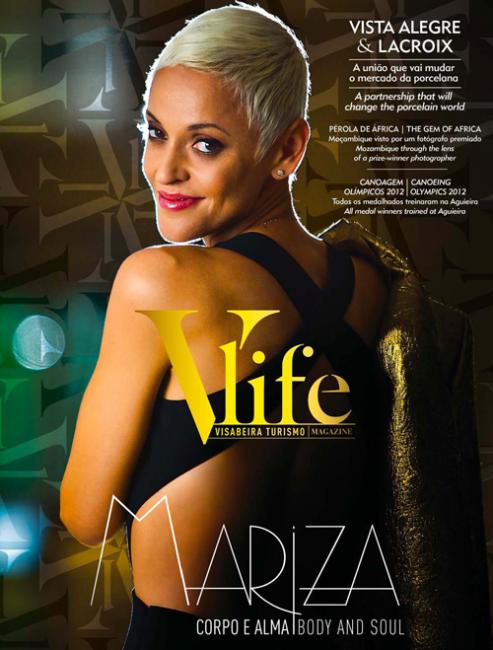 19-04-2013
V Life (Portugal)
New cover V life
Rui Hortelão tells me:
"Our goal was to turn Vlife – Visabeira Tourism Magazine into an outstanding publication that portrayed the quality work Visabeira Group has been doing in the tourism sector. The magazine's paper and printing had always been excellent, so the major change in this edition concerns the contents and the strategy behind their production. We chose only top personalities for these pages and were privileged to have them agree to the bold productions we devised for each one. We thank them for everything, extending a special thanks to:
Mariza, for climbing up a five meter ladder and standing in the cold perched on a high wall;
Manuel Ramos, "Nelo", for spending one hour in the water dressed in a suit;
João Paulo Gouveia and Miguel Oliveira for their teachings on wine;
Mia Couto and Roberto Chichorro, for serving as cooks in their own party;
Ljubomir Stanisic, for creating an exclusive recipe for our readers;
Sacha Walckhoff for unfolding the background story behind Christian Lacroix-Vista Alegre partnership;
Julião Sarmento, for creating art from Bordallo Pinheiro pieces;
Vik Muniz, for telling us about his experience as a Bordallo follower in Brazil; Joaquim Rebelo, for sharing his life as a shepherd with us;
Mauro Pinto, for allowing us to use his photos, some of which have won him BESphoto2012 award;
Marina Frutuoso de Melo and Hugo Santos for changing sports for one day; and, finally, our thanks to all in Visabeira Group and its hotel units who helped make this ambitious project of a magazine come true."
Direção/Direction
Catarina Pestana
Direção executiva e editorial/Executive and editorial diretion
Rui Hortelão
Fotografia/Photography
Orlando Almeida
Design
Departamento de Design e Comunicação Corporativa, do Grupo Visabeira
Tradução/Translation
Alcinda Marinho
Impressão/Printing
Maia d'Ouro

Click here for more best of the rest covers on Coverjunkie
Click here for more V life, Portugal covers on Coverjunkie