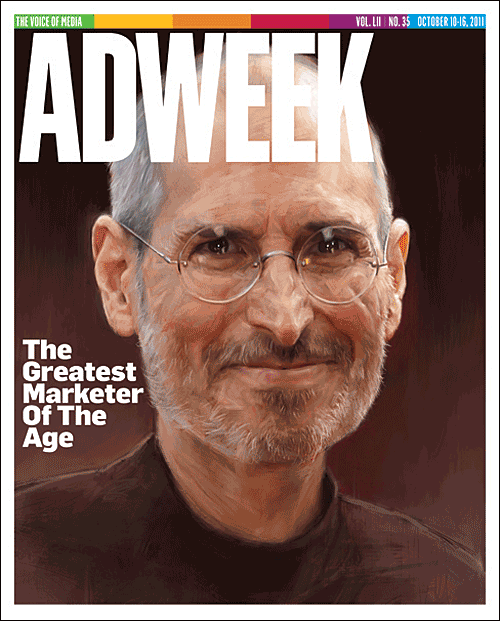 10-10-2011
Tribute to Steve Jobs
Creative director: Nick Mrozowski has planned a special tribute cover this week, he explains: "We did a special gatefold cover with two illustrations:
The first is a digital painting by Jason Seiler, a super talented Chicago artist. He paints directly on a special monitor using a stylus.
The second illustration (and earlier version of Jobs) was made by the illustrator Jorge Colombo , whose technique (he "finger paints" on an iPad) seemed especially fitting for the subject.
The inside of the gatefold had a beautiful archival photo from 1987 by Doug Menuez.
New cover Adweek magazine: "The greatest marketer of the age"
About Adweek: "our goal is to provide you inside stories on: creativity, client/agency relationships, successful global advertising strategies. Plus news of accounts in review, the best creative work, and new campaigns."
Editor: Michael Wolff
Here a short clip about this special cover:

Click here for more best of the rest covers on Coverjunkie
Click here for more Adweek covers on Coverjunkie
Click here for more Nick Mrozowski covers on Coverjunkie