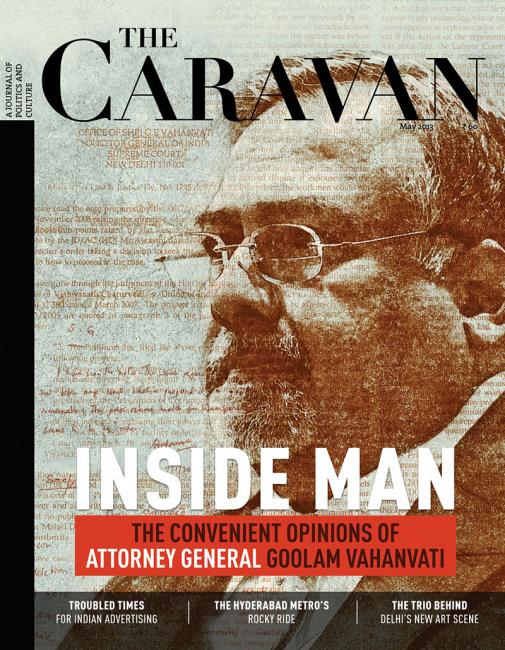 10-05-2013
The Caravan (India)
"Attorney General Goolam Vahanvati's career as a law officer has seen him embroiled in a number of controversies, including the 2G scam, the coal block allocation scam and the alleged disproportionate assets of Mulayam Singh Yadav and his family. In each case, he has found himself accused of tailoring his legal opinions to suit the government's ends, and favour a certain corporate lobby. Over four months, Krishn Kaushik interviewed Vahanvati's friends and associates, and Vahanvati himself, to profile the embattled attorney general."
New cover The Caravan:
"The country's first and only publication devoted to narrative journalism, The Caravan occupies a singular position among Indian magazines. Our stories present a unique mix of detailed reporting, lively and vivid writing, and a commitment to the art of storytelling whether the subject is politics, culture, travel or art. Drawing on the tradition established by international magazines like The New Yorker and Granta, The Caravan presents a rich and nuanced picture of contemporary India in all its complexity."
Art Director: Girish Arora
Photo Editor: Srinivas Kuruganti
Executive Editor: Dr Vinod K Jose
Editor: Anant Nath

Click here for more best of the rest covers on Coverjunkie
Click here for more The Caravan covers on Coverjunkie