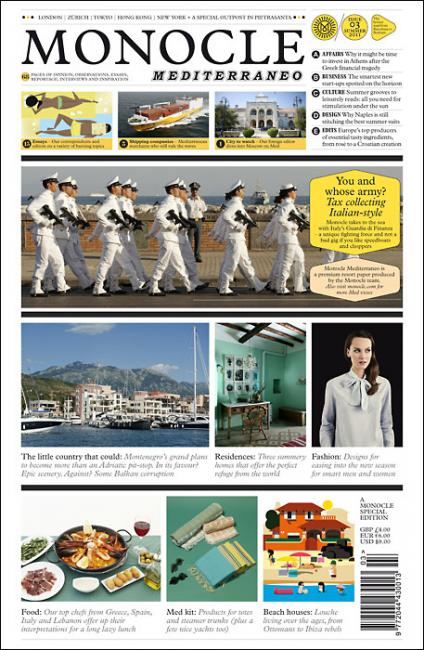 05-08-2011
Summer Monocle
I really love the 'luxury-newspaper-feel' print of their special issues.
Here new cover uberhip Monocle magazine. Distinctive cover design, the whole mag pretty distinctive btw, go check it out!
About: "Launched in February 2007, Monocle is premium media brand with magazine, web, broadcast and retail divisions. Focusing on global affairs, business, culture and design, Monocle's mission is to keep an eye on the world. Monocle is a distinctive mix of smart journalism, international awareness and sharp design. In print and online, writers and photographers are dispatched to over 50 countries every month to deliver stories on forgotten states, alluring political figures, emerging brands, fresh forces in popular culture and inspiring design solutions. Monocle's annual Quality of Life issue, which ranks the top 25 most livable cities in the world, has become a trigger for global debate on improving our cities."

Click here for more ace covers 2011 covers on Coverjunkie
Click here for more Monocle covers on Coverjunkie