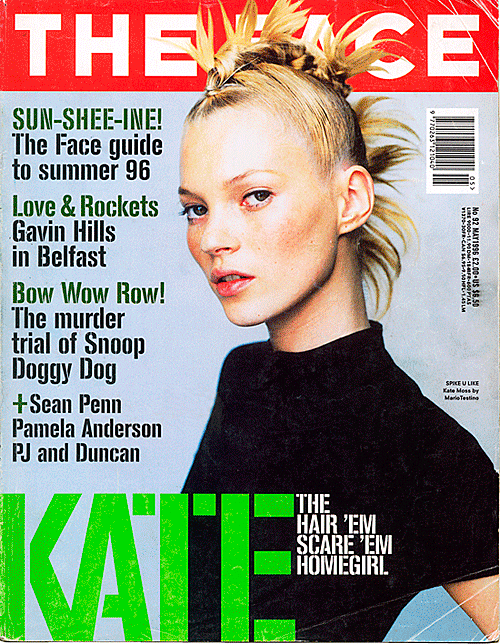 13-07-2011
Stephen Jenkins admires
This week Coverjunkie asked Stephen Jenkins, Art Director from ace The Guardian Guide, a supplement from The Guardian newspaper about the favorite covers that are so good he wished he designed them himself, here Stephen's top 5:
1. The Face:
"This is probably my favourite Face cover from a classic era of the magazine.
Kate Moss + Testino + stencil type = Genius"
2. New York Magazine:
"Probably one of the best magazines (in my opinion) in the world. I love the variety
of editorial resulting in photographic, typographic and illustrated themed covers. This is typical New York Magazine, great typography with a hint of comedy."
3. The Face / Neville Brody:
"My favourite Neville Brody cover for The Face from May 1984. A real iconic cover thats almost 30 years old and still looks fresh today. Incredible!"
4. Wallpaper:
"An iconic graphic cover from Wallpaper, illustrated by James Joyce for the generation next issue. Beautifully simple and graphic. One of the few magazines confident enough to use illustration on their covers."
5. New York Times Magazine:
"The New York Times Magazine is an incredible publication. High end art direction/ photography/ illustration with a budget to match NASA. An intelligent bespoke product where the editorial compliments the design and vice versa."
About Stephen:
"I decided to study a graphics MA at Central St. Martins and spent some of this time at Wagadon Publishing who produced The Face and Arena magazines. Afterwards I worked at Dazed and Confused and then at British Vogue for several years. At present, I spend my time between The Guardian and Wallpaper magazine as well as working on various different projects that I can find time for. I recently assisted Mark Porter on the weekend redesign of Het Financiele Dagblad in the Netherlands."
A sweet tip:
"I have recently found website, which is amazing: Posters in Amsterdam."
Stephen thanks! big up!

Click here for more best of the rest covers on Coverjunkie
Click here for more Stephen Jenkins covers on Coverjunkie
Click here for more Stephen Jenkins covers on Coverjunkie