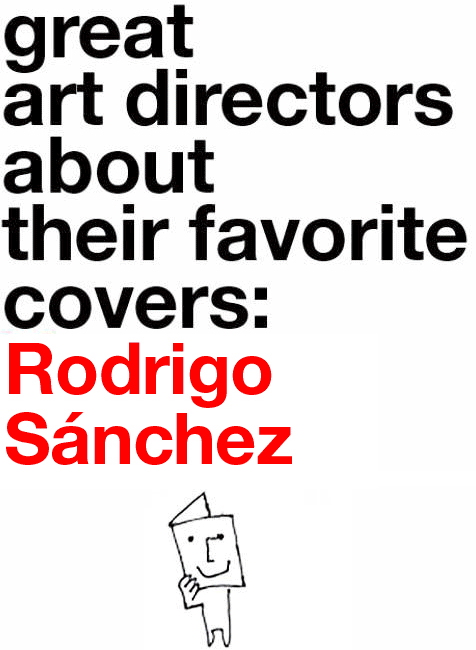 09-06-2011
Rodrigo Sánchez admires:
This month Coverjunkie asked Rodrigo Sánchez, Design Director from ace Metrópoli magazine about the favorite covers that are so good he wished he designed them himself: here Rodrigo's top 4:
Rodrigo's favorite coverdesigns
#1 THE NEW YORKER: "The New Yorker's cover is probably, the Cover of the Year.
It blends opportunity and creativity to become the perfect front page. The idea of blurring the deceased personage by erasure is simply worthy of a genius."
#2 BLOOMBERG BUSINESSWEEK: "Bloomberg's Businessweek is generating some of the most creative works in the international scene. To make use of "band-aids" to relate to the current state of the corporation that manufactures them is
both original and a genuine gamble. It presents an unusual solution with a genuine personality of its own."
#3 NEW YORK TIMES MAGAZINE: "You cannot say more with so little, here we perceive how a best-seller like the NYT can simultaneously execute a juggling act and go minimalist. The New York Times, as usual, is in a class of its own."
#4 PLAYBOY: "It is not easy to fall into well worn stereotypes when approaching classic sexual topics and even more so in the case of a publication that includes sexually explicit imagery. The simple rotation of an easily recognizable femenine body part radically changes the message. This "sexed-up" cover is generated within the spectator´s mind,
not on the printed page. It is simply brilliant. I am jealous I didn't dream that one up first."
About Rodrigo Sánchez:
Rodrigo joined Spanish El Mundo in 1992, where he is the Design Director of three of the newspaper's supplements. For the last 15 years he has been designing covers for Metrópoli where he won several design awards. Click here for another great interview with Rodrigo.

Click here for more best of the rest covers on Coverjunkie
Click here for more Rodrigo Sanchez covers on Coverjunkie