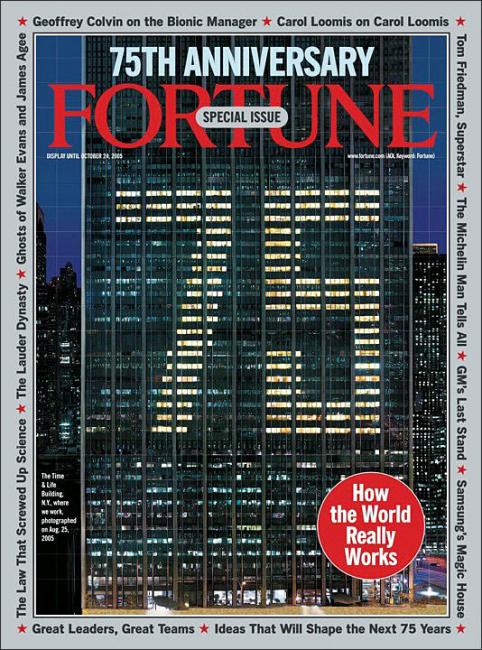 05-04-2011
Robert Newman fav #5
Coverjunkie asked great art director Robert Newman about his 5 most favorite covers he designed himself.
Robert's favorite #5: Fortune: "For the 75th anniversary cover of Fortune we recreated a classic Fortune 500 cover from 1964. We had all the lights turned off in the Time Life Building and lit up 20 floors to make the number 75. Of course everyone assumed we did this in Photoshop, but it was done in real time, with a giant team of people on each floor, on the street, and in the building across the way where we did the photograph."
About Robert Newman:
Robert has been a design director at a wide range of consumer and trade publications on big names like: New York magazine, Details, Entertainment Weekly, Vibe, Real Simple, Fortune, The Village Voice & Guitar World.
He and his teams won numerous publication design awards and medals. In 2004, AdAge magazine named his Real Simple team the Creative Team of the Year. Right now he's a design and content consultant for numerous publications like JCK magazine, Newsweek, O: The Oprah Magazine, Reader's Digest, TV Guide and many more.
Robert also was past president of the Society of Publication Designers, has been a frequent guest lecturer at the Poynter Institute and speaks regularly to groups and conferences about publication design and art direction.
Finally...
Don't forget to check (plus a big thumbs up) Robert's Newmanology page for your daily updates on magazines, covers and other ace mag stuff.

Click here for more best of the rest covers on Coverjunkie
Click here for more Fortune covers on Coverjunkie
Click here for more Robert Newman covers on Coverjunkie