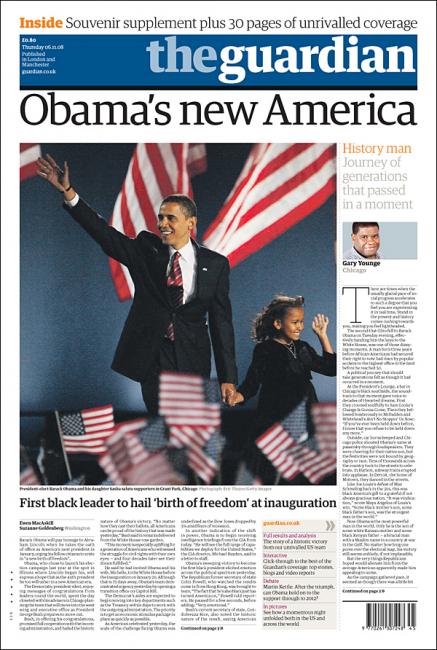 22-08-2011
Mark Leeds favorite (1)
This week Coverjunkie asked Mark Leeds, creative consultant for ace FT weekend Magazine (a supplement from The Financial Times) about his favorite designed covers, here #1 out of 3:
The Guardian Newspaper
Obama's Inauguration: An exciting historic moment, where the picture carries the message.
I think Fiona looked at 15,000+ images that day
Art Director: Mark Leeds
Editor: Ian Katz
Picture Editor: Fiona Shields
About Mark Leeds:
"My first real job was for the Guardian and Observer's Development Department designing a range of editorial, marketing and advertising projects, becoming its Art Director in 2001. My particular passion was the editorial work – I worked closely with Mark Porter on special projects for the Guardian such as the bi-annual Fashion Handbook – and with the Observer on its special edition magazines. I left in 2003 to travel and worked with James de Vries at his Sydney design studio. Returning in 2004 I joined Mark Porter, Richard Turley and Michael Booth on the Guardian newspaper 'Berliner' redesign. In 2009 I set out on my own as a design consultant working with a range of clients. Last year was exciting, redesigning Bloomberg Businessweek with Richard Turley, Courrier International with Mark Porter, and the Financial Times Weekend Magazine. I have an ongoing role as creative consultant for the FT and am currently redesigning a literary magazine.
A sweet tip:
"I always check MagCulture, , but i'm sure every Coverjunkie will know it"

Click here for more best of the rest covers on Coverjunkie
Click here for more The Guardian covers on Coverjunkie