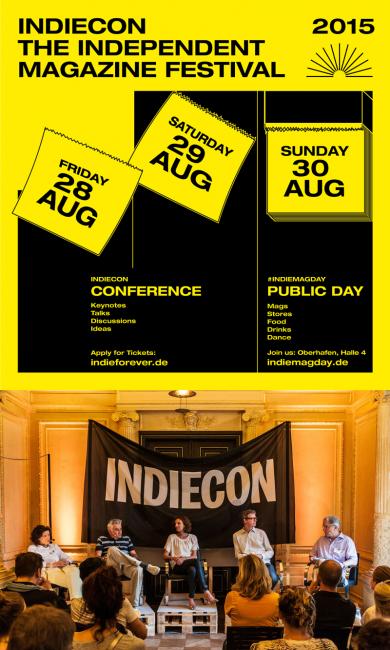 12-08-2015
INDIECON 2015 – The Independent Magazine Festival
Hey Mag lovers – get this:
On 28 and 29 August, there will be the second annual gathering organised for the makers of independent magazines - in short: INDIECON 2015. The governing question of the conference will be "Is Indie forever?", sparking discussions about independent magazines as the inspiration for new ideas, about growth and about the question of stabilisation – how a model for life and work can grow out of the idea for a mag.
All that will be discussed by international Indiemag royalty such as Jeremy Leslie (magCulture), Kai Brach (Offscreen), Steven Gregor (Gym Class), Johannes Conrad (Flaneur), Ibrahim Nehme (The Outpost), Ryan Fitzgibbon (Hello Mr.), Alexander Scholz (Holo), Klaus Neuburg and Sebastian Pranz (Froh!). Boom!
On 30 August, Indiecon is coming to an end with the public event #indiemagday. #indiemagday's "Free Trade Zone for Printed Goods" opening at Hamburg's Oberhafen will provide space for everyone to talk to the people behind the magazines, browse for rare magazines, discover indiemags from a vast array of subject areas – and buy them. The range spans everything from hand-glued to kiosk-sold titles, a lot of magazine makers will be there in person and will present their publications. The result: A wide selection and rare mix of international indie mags.
So if you're in Hamburg during those days definitely make sure to pop by and check out #indiemagday.
INDIECON 2015 – The Independent Magazine Festival in Hamburg (Germany)
photo credit (c) Malte Spindler

Click here for more best of the rest covers on Coverjunkie
Click here for more Indiecon covers on Coverjunkie