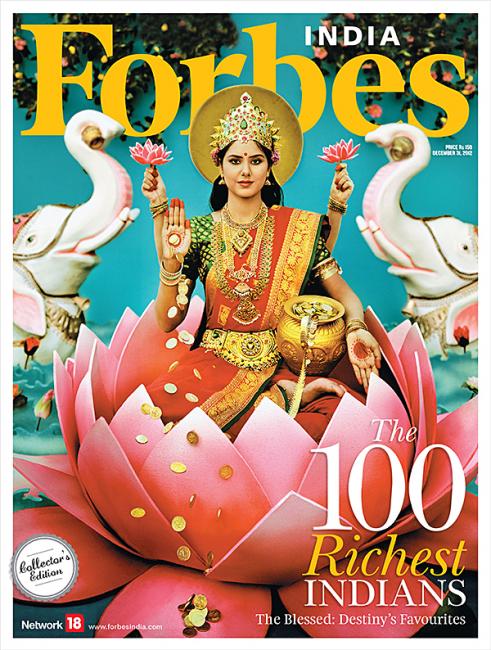 04-11-2012
Forbes (India)
"The 100 richest Indians"
New cover Forbes magazine from India.
Design director Anjan Das tells me
"The cover had an extraordinary image of Goddess Lakshmi (the Hindu goddess of wealth and prosperity (both material and spiritual). She is the harbinger
of good fortune and is worshiped across Hindu households and commercial establishments. In Hindu mythology, Lakshmi is depicted as the Goddess who showers coins of prosperity on mankind. She is also an embodiment of beauty. Her face exudes calmness and love, while her strong personality
demonstrates the power of wealth.)
The idea of putting Goddess Lakshmi on the cover stemmed from one of my recollections
of a fantastic project which New York-based photographer Manjari Sharma (projectdarshan.com) has undertaken.
Manjari is in the process of shooting a series of Indian deities for Project Darshan: A fine art series that aims to recreate through photographs nine
Gods and Goddesses from Hindu mythology. These deities will be represented in six-foot long images. The final result of this project would be a massive
print installation of these images across museums; this would closely resemble the experience of a Hindu temple, replete with incense sticks,
lamps and invocations accompanied by detailed texts on each deity.
All those who have made it to the Forbes Rich List are blessed by Goddess Lakshmi. She's steered them through times of economic uncertainty.
She is their fortune, wealth and prosperity.
In summation, as Manjari says, "Diwali is approaching and it's a blessed time for Maa Lakshmi and Forbes India to have found each other."
For a detailed insight of why we had put Goddess Lakshmi on the cover of Forbes India Rich List Special 2012 please visit my blog below:
http://forbesindia.com/blog/editors-blog/why-we-put-goddess-lakshmi-on-the-cover-of-forbes-india-rich-list-2012/"

Click here for more best of the rest covers on Coverjunkie
Click here for more Forbes covers on Coverjunkie