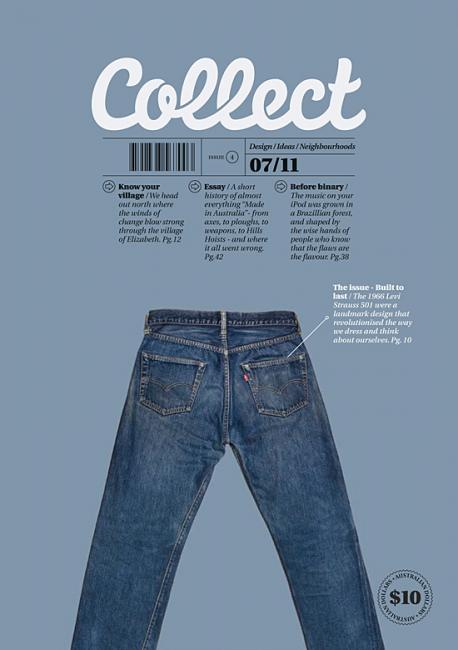 28-07-2011
Collect a jeans
Oh boy do i love their minimalistic covers!
Collect magazine from Australia, a 64-page magazine published 10 times each year.
Creative Director Adam Johnson
Editor in Chief Josh Fanning
Josh tells me: "COLLECT IS ALL ABOUT OLD FASHIONED GOODNESS. It was only two generations prior that we all had vegie patches and fruit trees in our gardens and rode bikes to work. We want civilisation to be critical of its progress. Are we heading in the right direction? I think we must view technology as a means to an end and NOT an end in itself as there will always be a place for printed ink on paper and magazines in hands.
COLLECT is a magazine about taking pride in what we do and where we live. It shines a spotlight on things done well and explores ways we might be able to do things better. We believe the future is small. Worldwide, the hyper-local is gaining importance and the car-fuelled tomorrow is grinding to a halt. Small cities - and the small cities within cities - are re-emaphasising the importance of community.
People are returning to the corner store - and that's where you'll find us.

Click here for more ace covers 2011 covers on Coverjunkie
Click here for more Collect covers on Coverjunkie