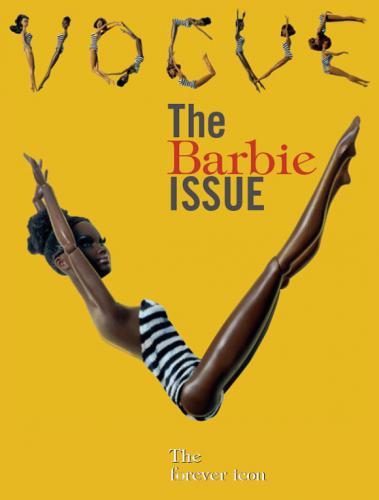 18-07-2009
Barbie Vogue
Barbie 50th year anniversary: a special tribute by Vogue Italy
From the Italian Vogue website: "Barbie has scored a starring role in Vogue Italia's most iconic edition; the Black Issue, as the magazine styles the iconic doll in a collector's supplement. In July 2008, Franca Sozzani, editor-in-chief of Vogue Italia, conceived the first Black Issue, starring models including Iman, Naomi Campbell, Liya Kebede, Sessilee Lopez and Jourdan Dunn - with the intention of sending a message to the fashion world about the importance of diversity in fashion.
"Barbie has been an icon for whole generations which is why I really wanted to give a strong sign in step with the times, and dedicate the anniversary issue to Black Barbie," Sozzani said.
The first black doll from Barbie was introduced in 1967, as a friend of Barbie called Francie, followed by the first "Black Barbie" doll, introduced in 1980. The trend continues this autumn with the launch of a collection of black Barbie dolls, called the So In Style dolls; which have been designed with more authentic-looking black features, including a new facial sculpt that has fuller lips, a wider nose, more distinctive cheek bones and curlier hair.
"Barbie has been a mirror of the times for 50 years and continues to reflect the trends and interests of the day," Richard Dickson, senior vice president of Barbie said."

Click here for more ace covers 2009 covers on Coverjunkie
Click here for more Vogue covers on Coverjunkie