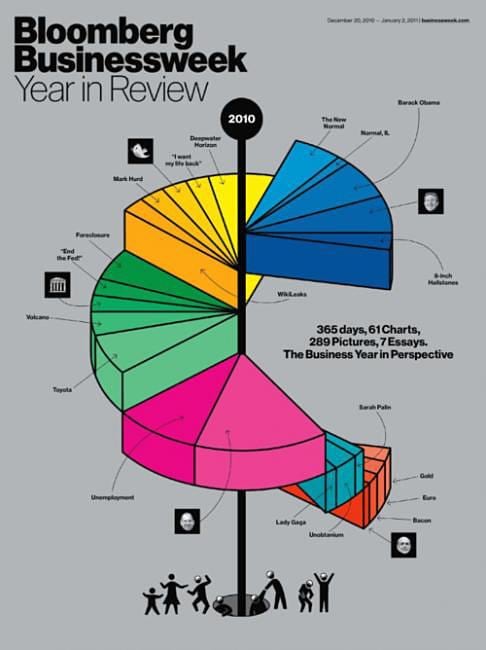 19-06-2011
WINNER d&ad 2010 (uk)
Winner 3 of the prestigious D&AD awards from the UK:
Categorie Magazine & Newspaper Design:
Bloomberg Businessweek: "Year in Review"
"Bloomberg Businessweek's 2010 Year in Review' is not only a reappraisal of the year but a rethinking of the institution of the year-end issue. Organised around six words that informed the year ? currency, jobs, spills, gaga, normal, and stuck ? the issue takes each word literally, then flips it. 'Jobs' starts with a look at the crisis in the labour force and ends with 365 days in the life of Apple's Steve Jobs. 'Spills' dissects the effects of BP's Gulf of Mexico disaster and then looks at the year's professional tumbles."
Art Director Robert Vargas
Designer Evan Applegate / Jennifer Daniel / Patricia Kim / Gina Maniscalco / Maayan Pearl / Kenton Powell / Lee Wilson
Art Manager Emily Anton
Design Director Cynthia Hoffman
Creative Director Richard Turley
Photo Editor Tania Pirozzi / Diana Suryakusuma / Donna Cohen / Emily Keegin / Myles Little
Senior Photo Editor Karen Frank
Editor in Chief Josh Tyrangiel
Director of Photography David Carthas
Redesign Consultant Mark Leeds

Click here for more awardwinning covers covers on Coverjunkie
Click here for more Bloomberg Businessweek covers on Coverjunkie
Click here for more Richard Turley covers on Coverjunkie