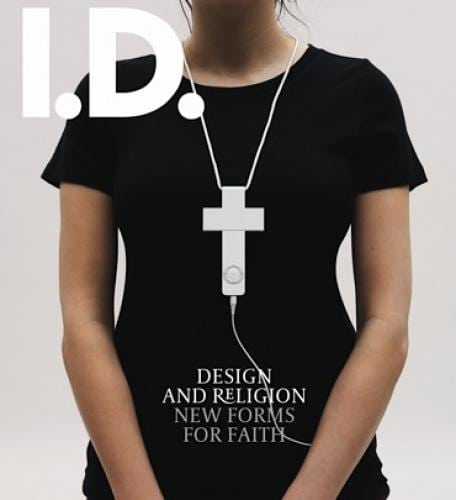 30-11-2006
finalist 'concept 2006'
Magazine Publishers of America cover awards, second place 2006: best concept cover:
Design and Religion issue, featuring iPod-like device turned into a crucifix necklace
Designers, who have fashioned ceremonial objects and buildings for as long as people have worshiped, are often called upon to reshape religious practices to align with the modern world. How do they engage in such transformations? That was the theme of this special issue, which reported on contemporary designs for devotion.
Designed by I.D.s art director, Kobi Benezri, the forms are stark and the palette is neutral, with just a hint of red at the top. The eye goes straight to the device that literally illustrates the cover line New Forms for Faith: an iPod Shuffle with a specially designed cap and lanyard marketed under the name iBelieve. For the main cover line, Design and Religion, Kobi added a touch of the medieval by tweaking I.D.s signature typeface Coranto. I.D. covers are often a family affair: The photographer was Mark Weiss, a regular contributor to the magazine, and the model was Senior Associate Editor Monica Khemsurov.

Click here for more awardwinning covers covers on Coverjunkie
Click here for more i-D covers on Coverjunkie