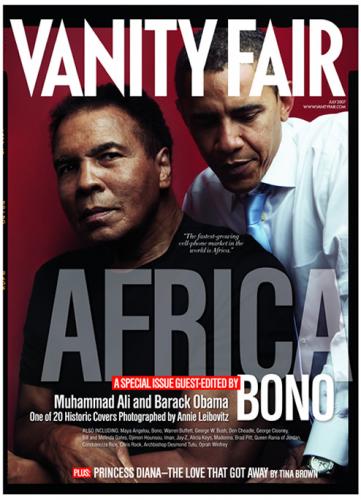 07-07-2007
finalist 'best' cover 2007
ASME cover awards, finalist 2007: cover of the year:
From Vanity Fair: Editor Graydon Carter and Guest Editor Bono published Vanity Fairs special Africa Issue with an unprecedented 20 covers featuring Muhammad Ali, Maya Angelou, Warren Buffet, George W. Bush, Don Cheadle, George Clooney, Bill and Melinda Gates, Djimon Hounsou, Iman, Jay-Z, Alicia Keys, Madonna, Barack Obama, Brad Pitt, Queen Rania of Jordan, Condoleezza Rice, Chris Rock, Desmond Tutu, Oprah Winfrey, and Bono, all shot by Annie Leibovitz.
Muhammad Ali and Barack Obama were both chosen to appear on the cover for their commitment to African affairs.
Each visit [to Africa] has proven to be a rare opportunity to discover just how magnificent and culturally rich the African people are, said Ali, who has been a messenger for peace for the U.S. government and the United Nations. It is true, Africa has endured famine, drought, and the AIDS epidemic, but what is more important is that the people have enduredwith dignity and hope. It is their home and mine that this rich and magnificent land will one day be restored to the majesty of its ancestors.
Obama, who believes in Africas promise, observed, I can still remember my first trip to Africa, two decades ago, when my sisters Volkswagen Beetle broke down. While that first trip was about discovering my past, my recent trip was about Africas future. And it filled me with hope.

Click here for more awardwinning covers covers on Coverjunkie
Click here for more Vanity Fair covers on Coverjunkie