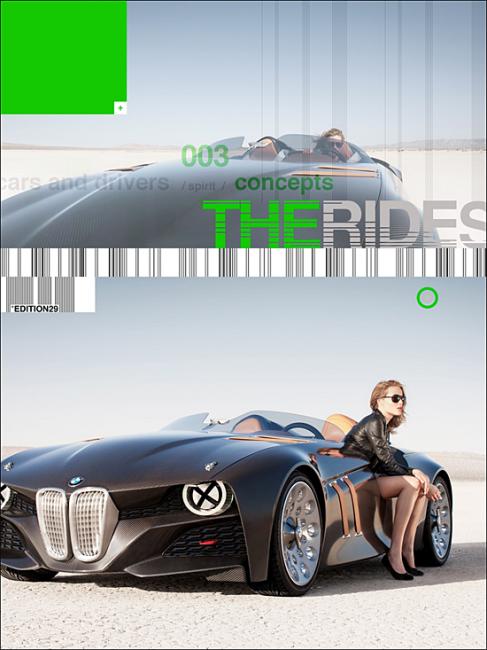 14-07-2011
The Rides
New iPad exclusive mag cover Edition29: "the new cultural digest for the iPad."
"Edition29 THE RIDES magazine is a cinematic presentation of the motoring life. We stay true to this theme by filling this issue with a panorama of visuals and accompanying audio of technically advanced visually stunning concept cars. The Architecture Editor of Wallpaper Magazine talks about megastar designer Marc Newson's design of the Pantone color inspired Ford 021C Concept. Author Richard Dredge tells us about the latest Aston Martin V12 Zagato. Photographer and author Randy Leffingwell dwells into the super hybrid Porsche 918 RSR. Writer Euan Sey discusses the edgy BMW Vision EfficientDynamics Concept. The Issue concludes with the stunning homage to the 1930's BMW 328, the newly unveiled black carbon fiber wrapped BMW 328 Hommage."
Designed by 29GPS
Executive Editor: Ninan Kurien.

Click here for more animated covers covers on Coverjunkie
Click here for more Edition29 covers on Coverjunkie