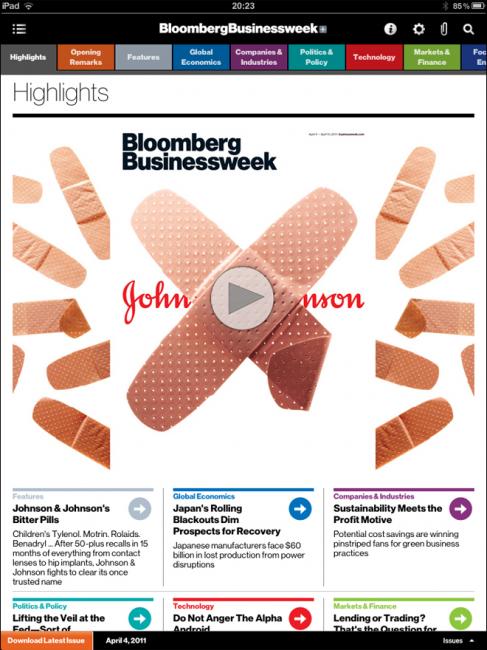 10-04-2011
iPad Bloomberg Businessweek
The biggest (and all deserved!) attention in cover country goes to Bloomberg Businessweek, now they bring their great designed mag to the iPad...
A nice concept is that they dont carrie the "usual" mag cover on front but go immediately to their content page. Only buying the copy you're able to see the cover. Gotta say i love the navigation on this app: there's the pull down menu (upper left side) and the colored sections, they both work excellent!
Also very nice is this special little movie from their Creative-Director Richard Turley in the 'Highlight' section explaining the cover he designed that week, great stuff for all us cover lovers!
Creative Director: Richard Turley
Design Director: Cynthia Hoffman
Graphics Director: Jennifer Daniel
Director of Photography: David Carthas
Art Director: Robert Vargas
Designers: Maayan Pearl, Lee Wilson
Design Manager: Emily Anton

Click here for more animated covers covers on Coverjunkie
Click here for more Bloomberg Businessweek covers on Coverjunkie