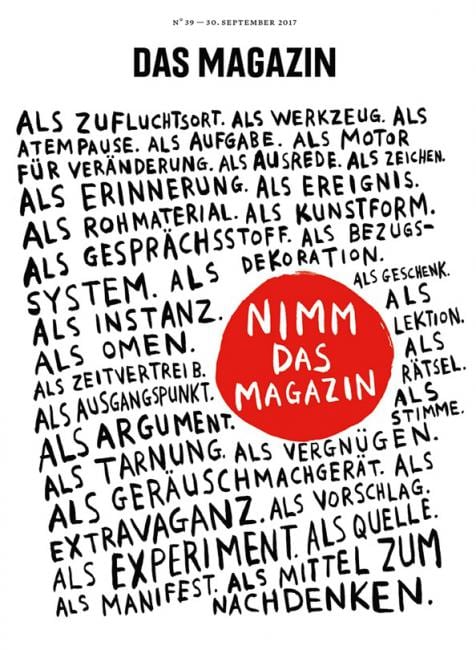 29-09-2017
Das Magazin (Switzerland)
Cover Das Magazin the weekly supplement of Zurich's newspaper
Christian Seiler wrote a portrait on Keri Smith, the artist and author of the best-seller Wreck This Journal.
Keri Smith
also created the cover.
USE THIS MAGAZINE
AS AN ESCAPE. AS A TOOL. AS A
RESPITE. AS AN EXERCISE. AS A FORCE
FOR CHANGE. AS AN EXCUSE. AS A SIGN.
AS A REMINDER. AS AN EVENT.
AS A RAW MATERIAL. AS AN ART-
ISTIC PRACTICE. AS A CONVERSATION
PIECE. AS A FRAME WORK. AS DECORATION.
AS AN AUTHORITY. AS A GIFT.
AS A HARBINGER. AS A LESSON.
AS A DIVERSION. AS A LEAPING OFF POINT. AS A MYSTERY.
AS AN ARGUMENT. AS A TREAT.
AS A DISGUISE. AS
A SOUND MAKING DEVICE. AS
AN EXTRAVAGANCE. AS ADVICE.
AS AN EXPERIMENT. AS A
SOURCE. AS A MANIFESTO. AS A VOICE.
AS A MEANS FOR CONTEMPLATION.
Photo editor Andreas Wellnitz
Art director Nathan Aebi


Click here for more ace covers 2017 covers on Coverjunkie
Click here for more Das Magazin (Switzerland) covers on Coverjunkie